'Unbelievable' – Henry delivers verdict on Mbappe and France's offensive options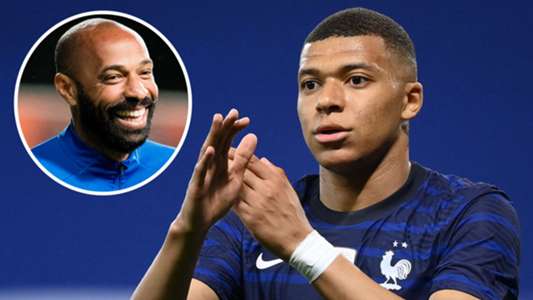 World Cup holders launch their Euro 2020 campaign against Germany in Munich on Tuesday evening
Thierry Henry believes Kylian Mbappe can propel France to European Championship glory this summer as he assesses the plethora of offensive options available for Didier Deschamps.
The World Cup champions kick off their campaign on Tuesday when they face Germany in Munich.
And Henry, who won the Euro with France in 2000, says Mbappe may be the man who will make the difference for Deschamps' side this summer.
What was said?
Speaking about Mbappe ahead of France's Group F opener against the Germans, Henry said Goal : "He's the kind of guy who can turn a draw into a win, a loss into a draw and sometimes a loss into a win right away. He has that talent.
"To have a player like him is just amazing.
"Not only what he can do, but how smart he is with the ball. He uses his brain when he plays and I like that about him.
"We are so happy that he is French."
What future for Mbappé?
Mbappe's future at Paris Saint-Germain remains far from clear, with his current contract due to expire in 2022.
Henry didn't want to be drawn to what he thought the striker should do, but said the 22-year-old has the ability to achieve whatever he wants in his career.
"First and foremost I have immense respect for PSG and what they have accomplished, so for me it would be unfair to talk about leaving or not leaving," said the former star of 'Arsenal.
"Whatever Kylian wants to accomplish, if he thinks about it, it looks like he will.
"I just hope he can stay injury free and we can have the luxury of watching him for a very long time because he is special."
The return of Benzema
Henry believes Karim Benzema's return to the national team gives Deschamps the perfect range of attacking options for the tournament.
And the 43-year-old, who again works as Roberto Martinez's assistant with Belgium, says he's not worried that Benzema's return will have any negative impact on team harmony.
"Knowing Didier, he must have measured that well," said Henry.
"[What happened] before, I do not know. All I know is Benzema is back and I think for me that can only be a plus.
"You now have a different kind of attacker. You have [Olivier] Giroud who can hold it, [Antoine] Griezmann recently enjoys playing behind the striker, we know Benzema is really everywhere and you have Mbappe who can play where he wants to play and speed up when he wants to speed up.
"So I see that as a plus, I'm happy with it."
Further reading