Dave Dombrowski discusses Phillies center field options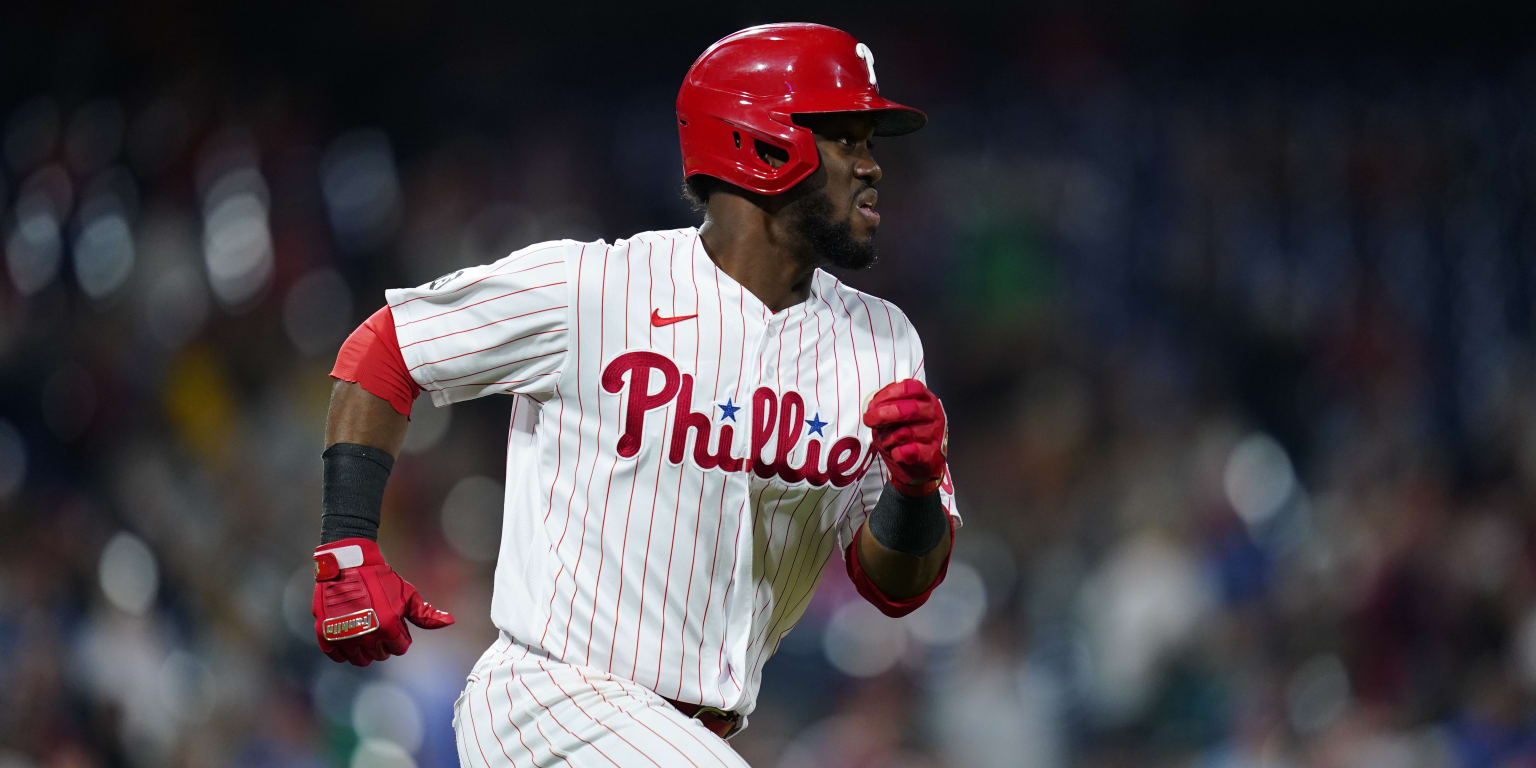 This story is from Todd Zolecki's Phillies Beat newsletter. To read the full newsletter, Click here. And subscribe to receive it regularly in your inbox.
That was late August 2008. Charlie Manuel just got another question about Carlos Ruiz, who hit .219 that season. He had been answering questions about Chooch for months.
Why is this guy still in the lineup?
Isn't there a better option?
"If everyone knocked, we wouldn't even be talking about Ruiz," Manuel finally said.
The former coach's answer comes to mind when President of Baseball Operations Dave Dombrowski spoke this week in Atlanta about Odúbel Herrera and the Phillies' lack of production in center field. Phillies centers have a .644 OPS, which ranks 18th in baseball. They've been in the bottom 10 of OPS in each of the previous four seasons, making them an annual source of frustration for fans. But Dombrowski echoed Manuel's thoughts on Ruiz when asked about Herrera.
"You're not going to have nine stars in different positions," Dombrowski said. "You have to have complementary players. I mean, our star players are [J.T.] Realmuto, [Rhys] Hoskin, [Jean] Segura, Didi [Gregorius] is out… [Bryce] Harper, [Nick] Castellanos and [Kyle] Schwarber. These are your stars.
"You have to have complementary players. [Herrera is] a complementary actor. He's not a star."
Herrera is infuriating to watch at times because when he makes a mistake it's often unbelievable. He threw a ball that went through his legs a few weekends ago in Los Angeles. He was kicked out by eight feet at home plate and made another pitch that landed a few feet in front of home plate last weekend. He let an errant pitch roll under his glove on Wednesday, which allowed the Braves to score the go-ahead from second base.
Herrera is striated. He played poorly earlier this month, but is 6-for-11 (.546) with two doubles, a home run and four RBIs in his last three games. Herrera (.4 bWAR, 0.7 fWAR) is batting .284 with three home runs, 12 RBIs, .832 OPS and 136 OPS+, meaning he is 36% more productive than the league average. Defensively, he's 1 out over average, according to Statcast. He recorded -2 ​​points defensively, according to FanGraphs.
Could the Phillies have found a more reliable option in center field this offseason? Starling Marte (1.0 bWAR, 0.6 fWAR) signed a four-year, $78 million contract with the Mets before the lockout. He bats .274 with four homers, 25 RBIs, a .715 OPS and a 107 OPS+. Chris Taylor (0.9 bWAR, 1.1 fWAR) has signed a four-year, $60 million contract to stay in Los Angeles as planned. He bats .260 with five home runs, 21 RBIs, .818 OPS and 129 OPS+. The Phillies kicked the tires off Rays center fielder Kevin Kiermaier (1.1 bWAR, 0.8 fWAR), but deemed the price too high. He's batting .239 with six homers, 14 RBIs, a .718 OPS and a 116 OPS+.
Each would be an upgrade, but none would have solved the Phillies' main problems. The reality is that the Phillies need their stars to start, just like Manuel needed their stars to start in 2008.
Manuel frequently reminded reporters that Ruiz was his No. 8 hitter. If he needed his No. 8 hitter to save the team, he said, they're in trouble. The same goes for Herrera, who is the Phillies' No. 8/9 hitter.
If the top seven hitters do their job, it doesn't matter who hits eighth or ninth, whether it's Herrera, Roman Quinn, Mickey Moniak, Matt Vierling or someone else.
Moniak continued his rehab this week with Double-A Reading. He might be back at some point. Dombrowski tempered expectations regarding Moniak's potential return.
"Mickey Moniak was probably a big loss for us," Dombrowski said. "If he had continued to play like he did at the end of spring training…I can't say he would because I've seen a lot of guys have great spring training and don't not have good regular seasons and vice versa. I'm not saying it's gonna be [back] because I don't even know what's going to happen. But it's another guy we're looking at. But Odúbel did well for us.